Welcome
The Friends of Spy Pond Park (FSPP) is a nonprofit organization that supports the preservation, enhancement, and enjoyment of Spy Pond Park and Spy Pond as natural and community resources in Arlington, Massachusetts.
FSPP supports:
the ongoing protection, improvements to and beautification of the park,
the use of the park as a community recreational and cultural resource,
the prevention and reduction of pond pollution, and
the preservation of open green space and wildlife
FSPP works with other local groups and has close communication with the Spy Pond Committee, an Envision Arlington Task Group.
News & Events
---
Saturday, September 24, 10 am-1 pm
Next FSPP Work Day:
Saturday, October 15, 9-11 am
Schedule and volunteer information
Spy Pond Park Playground Renovation
The work will begin the week of August 8. The path will remain open but the playground will be closed. Final completion date will depend on timely arrival of equipment and weather conditions.
Recent News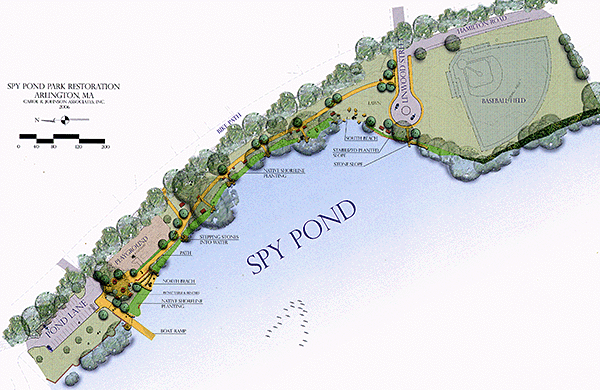 Friends of Spy Pond Park